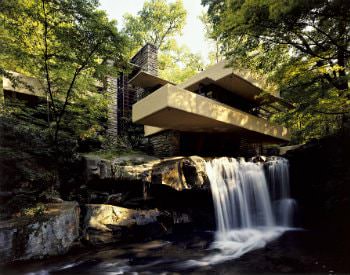 Our favorite Southern Laurel Highlands attraction, the magnificent Fallingwater, has achieved a high honor within the category of The 20th Century Architecture of Frank Lloyd-Wright, by being designated as an UNESCO World Heritage Site.
UNESCO is the acronym for United Nations Educational, Scientific and Cultural Organization, and is an agency of the UN that was established in 1945. UNESCO initially focused on rebuilding libraries, schools, and museums in Europe that had suffered destruction during World War II. Besides the emphasis and support UNESCO places on environmental, educational, and science programs, it also focuses on efforts to protect humanity's common cultural heritage.
Currently, WORLD-WIDE, there are only 1121 sites, and the fact that Fallingwater, along with eight additional Frank-Lloyd Wright properties have met the stringent requirements to be included is significant. Click the link to check out The 20th Century Architecture of Frank Lloyd-Wright on UNESCO's site, and while you are there explore a bit! Maybe you will be inspired to add a few trips to your bucket list!

We love to assist our guests in making a trip to Fallingwater a stellar encounter all the way around. If you are seeking an above average accommodation experience during your adventures, consider Hartzell House!
Psst! Don't overlook Frank Lloyd-Wright's House on Kentuck Knob, or Polymath Park, both an easy and scenic drive near Fallingwater.