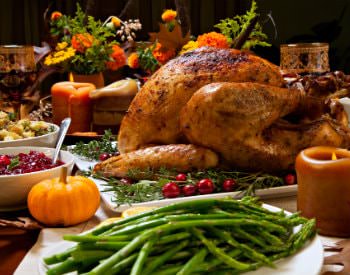 Book your holiday at Hartzell House Bed & Breakfast, and leave the fuss to us! Laurel Highlands is a beautiful place for an old-fashioned holiday, and you can tour Fallingwater in the Fall while you are here!
Arrive Wednesday evening to the the aroma of luscious pies and baking bread. Linger by the fire with a complimentary glass of fine wine or spiced cider.
On Thursday, enjoy a Continental Breakfast of cereals, boiled eggs, homemade cinnamon rolls and fresh fruit, then spend the day your way, returning to a full, traditional-with-a-twist Thanksgiving Feast, followed by billiards in the great-room, parlor games and classic holiday movies.
Friday, wake up to the wonderful aroma of French toast and savory egg custards in a buffet-style breakfast. Then explore our incredible countryside, visit Fallingwater (let us book your tickets while they still have spaces!), and enjoy one of the area's many fine-dining establishments (not included in Special's price). Return to an evening dessert buffet.
Saturday morning, experience Hartzell House Bed & Breakfast's mouthwatering, two-course, made-to-order, gourmet breakfast, then head back home; relaxed and rejuvenated, with no holiday mess to clean!
*Optional – Extend your stay into Saturday night and share a family-style pancake breakfast on Sunday morning at 9am.
Check out our Specials and Packages Page for pricing and give us a call if you have any questions or would like to book.